It doesn't matter how much preparation anyone puts into organising a ride, you can never guarantee the weather. The day before my ride I got absolutely soaked through, so I was very relieved to wake up to the sun shining through my bedroom window, the sun gods were shining upon me.
I arrived at the shop around 9:30 to find that Alex and Tim had already opened up and around 20 eager people were waiting for the day ahead. Once everybody had 'swiped' in and the safety briefing had been given, we headed off in the direction of Chiselhurst then onto the A20 towards the M25 and the Dartford Tunnel, where we took full advantage of the acoustics as the sound of our exhausts reverberated around the bore of the tunnel as we crossed the border into Essex.
Once clear of the M25 we headed out onto the country lanes of Essex towards Brentwood where the people stood in amazement as 50 Harley's thundered their way through town. We travelled past Weald Country Park, with its 500 acres of unspoilt countryside where Deer are often seen quite at ease wandering around the fields; buy not when 50 Harley's are passing by. Past Old MacDonald's farm and onto Coxtie Green Road and stopped at The While Horse for tea, coffee and biscuits, courtesy of John Warr. The hospitality we received from the staff at The White Horse was amazing, they came in an hour and a half early to get ready for our visit and let us use their marquee.
When we were all suitably refreshed we headed out into the car park for a group photo before mounting our iron steeds and heading off on the road again.
We rode in the direction of Kelvedon Hatch, past the 'secret' nuclear bunker, which was built in 1952 to house up to 600 people from central government if we were attacked by the Russians. Over the river Roding to Chipping Ongar where we came across a road closure and had to take a 10 mile detour encountering heavy traffic due to the Essex Young Farmers Country Show which happened to be on the same day.
We eventually found our way back onto the route utilising some amazing bike roads we headed for our final destination of Finchingfield. The route took us through some of the most pretty villages Essex has to offer (High Roding, Great Dunmow, Great Bardfield and into Finchingfield).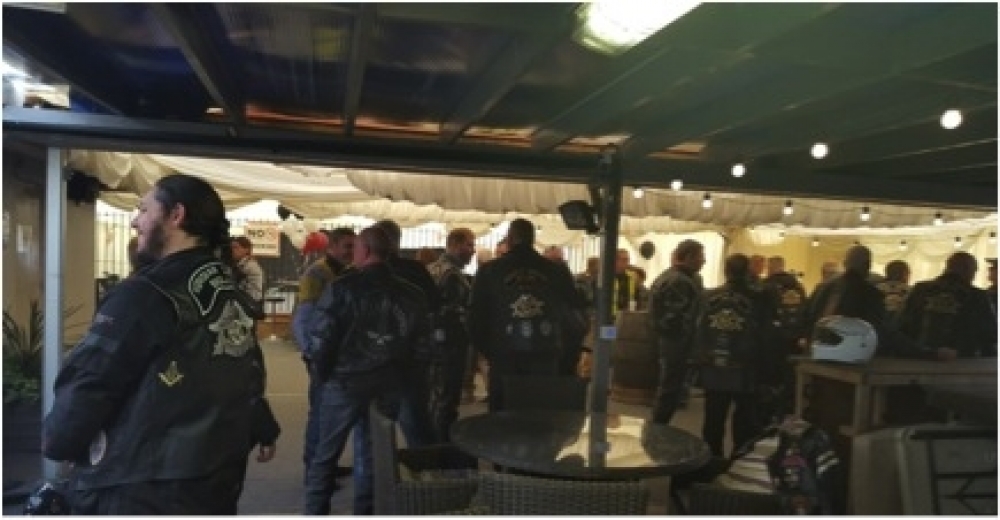 Finchingfield is described as picture-postcard pretty and is an idyllic Essex village complete with village pond, redbrick cottages and a white 18th Century windmill. The village was once an important changing place for horse-drawn coaches on the main route from London to Norwich and is now a popular haunt for motorcyclists to stop for refreshments in one of its three pubs and two tea rooms.
Due to popularity trying to terminate a ride around the village green on a hot sunny Sunday would be impossible, not to mention dangerous, so I led the ride over the little bridge and up the hill to Freshwells Health Centre. The practice manager had very kindly agreed to leave the gates to their car park open for us to park en-mass. From here people dispersed to the three pubs and two tea rooms where they could choose from an array of fayre, from local pub grub, roast dinners, BBQ's or cream teas.
It was well after 4pm when I left for home with 7 bikes following me to the local petrol station before heading South at the end of their Anglian Adventure.
Special thanks to Alex and Tim for opening early, John Warr for the refreshments at the White Horse, and all the Road Marshalls and Road Captains, Barry Masters, Fred Blunden, Bernie Cresswell, Steve Uffindell, Graham Allen & Dave Mann. Finally, I have to thank everyone that joined me for my ride out, you made my day.
Nick Franklin, Meridian Road Captain