Remembrance Ride
12th November 2023
As far as November mornings go it wasn't too bad. Light sprinkling of rain and gray overhead. That didn't stop 35 hardy C&F members from turning up to join my Remembrance Ride down to East Grinstead.
Hot Tea, Coffee and snacks, kindly laid on as per usual by Warr's, went down well as many took the opportunity to grab a hot drink before the briefing given sharp at 10.40. Afterwards the Chapter honoured the 11am silence and then mounted up and headed off west down the Kings Road.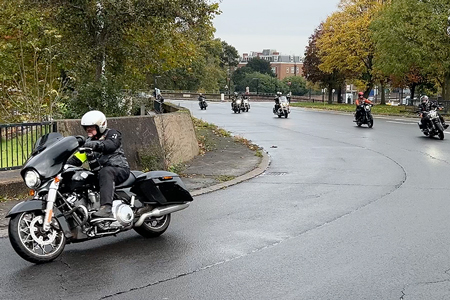 Through Putney onto the A3 then a left turn at Tolworth towards Epsom and Ewell. Picking up the A217 briefly we then took a country lane diversion through Kingswood, Chipstead and on to Old Coulsdon. Shortly after we took a breather to re-gather, rather fittingly, at RAF Kenley which was of course one of the key fighter Airfields during and after the Battle of Britain. The group had so far stayed remarkably tight and so it wasn't long before we resumed our ride and headed out into proper country road territory from Woldingham to Cowden. Two and a half hours after leaving Warr's we arrived at the car park of the Dorset Arms in the historic High Street.
We'd been asked by the Landlord to make as much noise as possible when we arrived (there is a small tunnel at the entrance to the car park) so how could we refuse? Tunnels and loud exhausts were of course made for each other!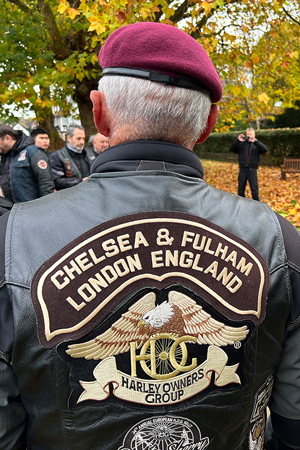 Bikes parked we quickly all walked over to the Sir Archibald McIndoe memorial outside Sackville College, just over the road from the pub. Road Captain and ex Para Ray Campbell laid our wreath, the RCs read the Ode of Remembrance and the Chapter duly observed a minutes silence. Ours was the only wreath placed there as no doubt the main High Street memorial deservedly gets more attention at this time, so it felt right and fitting to visit this little known memorial and to show our respect.
Back over to the pub and refreshments. Unfortunately the kitchens weren't the fastest in the west but nevertheless in good C&F spirit everyone settled in to talk about the ride, bikes, life and a good few of us no doubt gave a passing thought to just how lucky we are to be able to ride our bikes and enjoy ourselves as and when we like. Lest we forget.
Big thanks to Road Captains DOF, Ray, Nigel, Wiggs, Johnners, Fred, Steve, and most importantly last man Andrew. Everyone in the group rode brilliantly and kept close formation throughout. Well done all and here's to next seasons rides... Senigallia in Italy anyone?
In the meantime I hope to see you all at the C&F Social Night at The Rose opposite Warr's on Thursday 30th November, from 7pm.
To find out more about McIndoe and his patients please visit Guinea Pig Club
John Warr - C&F Chapter Director
Photographs courtesy of Steve Graham - C&F Photographer